Transition September 2021
WELCOME TO NEW YEAR 7s
We are really excited about our new Year 7 students joining us in September 2021 although we are so disappointed to not be welcoming you in to school at this time. We had really hoped that this year we would be able to hold our normal, larger transition events in person. However, we have to deal with the government guidelines as best we can and have put in place this transition web event, as well as online sessions with our Year 7 tutors and in person meetings that will take place outdoors, in our marquee, during our final week of term.
We believe that a positive transition experience at any phase can set a child up to thrive and succeed at the next stage of their education. Whilst the experience of transition will be slightly different this year, we believe that we can still achieve our aim of giving every child the very best possible start to their secondary school life.
You are about to start what we hope will be a really happy and productive five years, in which you will:
Make lots of friends
Take advantage of many opportunities
Leave us having made excellent progress in your learning and with many happy memories
We look forward to welcoming you to our Woolmer Hill School family. Should you have any questions or queries regarding your transition please get in touch with us.
Transition Presentations
We hope that the introduction and presentation from Mr Poeti, which you can view below, will give you a taste of your future time at Woolmer Hill School. Please click here to view the Tutors' Powerpoint Presentation from our Induction Evening.
Year 6 into 7 Curriculum Transition Booklet
To help you prepare for the year ahead and to get better acquainted with the subjects you will be learning, please view and download the attached booklet. This will give information on what you will be learning in Year 7 and hints and tips on how to get ahead.
Our Interactive School Map & a Quiz!
To help you get to know the school, we have created an interactive map. Please click on the image below to load the interactive version. Don't forget to have a go at the quiz at the end to see how well you know the school already!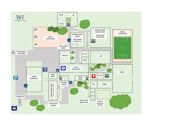 Common Concerns
We appreciate that you may be feeling apprehensive about starting a new school and have prepared this list of the common concerns that as a new Year 7 you may experience. You can view this by clicking here.